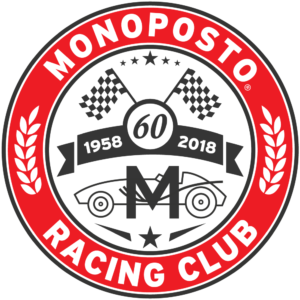 We will be celebrating the 60th Anniversary of Monoposto at Snetterton on 12th and 13th May.
Monoposto will have two grids at the event, the first containing the Classic, 1800, 1600 and Moto 1000 classes and the second comprising of Mono F3, 2000, FR2000 and Moto 1400. Qualifying and Race 1 for each grid will take place on Saturday, with Race 2 and Race 3 on Sunday. The grid for Race 2 will be decided by the fastest laps set in Race 1 and the grid for Race 3 will be set by the fastest laps set in Race 2.
This meeting will host the Ray Dackombe Trophy which will be contested over the weekend. The winner will not only have their name added to the coveted Ray Dackombe Memorial Trophy, but an extra prize has been donated by Ewen Sergison. The prize is the 'Monoposto Formula' book, which has just been released and details the history of Monoposto from 1958 to 1976.
The Ray Dackombe Trophy runs across all eight classes and can be won by anybody, for more information about the Ray Dackombe Memorial Trophy and the criteria for the award please click here.
On top of this we will have a display of ex-Monoposto cars, including some 'specials'. Monoposto has a fantastic history and we are looking forward to celebrating this over the weekend. There will be a demonstration in the lunchtime of the Saturday at 1.40pm which will be for the display cars and the ex-champions.
The hub will also be upgraded for the weekend and will be located next to the display and snacks will be available over the weekend along with the normal offering of tea, coffee and biscuits.
The annual BBQ and Baking Grand Prix will be held on the Saturday evening at 7pm. Tickets are £15 and are available to purchase by clicking the link below or contacting Rachel Lovett. If you would like to come, you can pay in advance or pay cash on the day but you must let Rachel know in advance so we can cater for you.
The Baking Grand Prix will be hosted by Joanie Harvey, entries will be taken on the day and will be judged by a panel of 'experts' and there will be prizes for the winners. The baking grand prix entries will then provide the dessert for the BBQ.
We would like to have as many ex-members and ex-champions at the anniversary meeting as possible, so if you are an ex-member or champion please get in touch with Rachel (rachel@monoposto.co.uk or 01302 364715) if you would like to attend. Please also get in touch if you have an old Monoposto car that you would like to put on display at the meeting.
Event Documents and Information
Documents will appear here as they are released or updated: