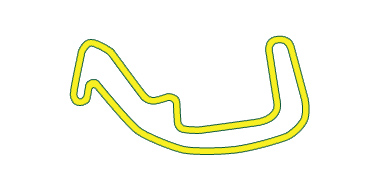 Getting to the Circuit
You'll probably cross from mainland Wales to Anglesey via the A55, over the Britannia Bridge, originally designed by Robert Stephenson, redesigned in the 1970's following a fire.  To the right is Telford's Menai Suspension Bridge, and eagle eyed passengers may spot the Statue to Lord Nelson to the left on the Anglesey shore.   Admire but ignore the sign to Llanfair­pwllgwyngyll­gogery­chwyrn­drobwll­llan­tysilio­gogo­goch.  Turn left onto the A4080 and follow signs to circuit.    
If coming from Ireland from, head on the A55 from Holyhead and turn right onto A4080.
At the Circuit
The paddock is fairly flat and has a tarmac surface.
There is a small building in the towards the centre-front of the paddock with a number of 240V 16A power points.   Several taps for water dotted about.   Garages have 13A and 16A power sockets.
Loo, shower etc.
There is a shower block and toilet block on either side of the access road at the entry to the main paddock.
Sign on
The circuit office is on the ground floor of the building in the centre of the pit complex.  
Restaurants at the Circuit
There is a clubhouse serving meals and occassionally a fast food van.
Local Facilities
Nearby Rhosniger has pubs, restaurants and fish and chip shop (although this closes comparatively early) as well as convenience stores.  Llanfaelog has a convenience store also.
Camping
There are grassy areas near the clubhouse which competitors pitch tents.
Mobile Phone / Internet
Mobile phone coverage isn't brilliant, but there is free wi-fi within the paddock, the access code is on the door to the circuit office.