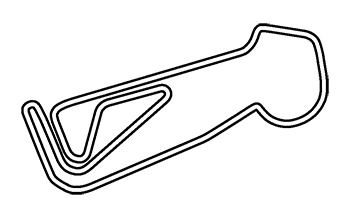 Getting to the Circuit
Snetterton is situated on the A11 between Thetford to the South and Norwich to the North.   
If coming from the South or Midlands, you will join the A11 from the A14 near Cambridge and continue past Thetford. 
If coming from the Norwich, you may arrive from the A47 Kings Lynn road, until reaching Norwich, where you head south on the A11. 
Getting in the Circuit
The circuit is clearly signposted from the A11 dual carriageway.   Negotiate roundabouts on the slip roads and the circuit is very close to the main road.   There is only one entrance
The paddock is split into several areas, a grassy area behind the assembly area, a large tarmac area behind the pitlane, and a newer tarmac area alongside Tyrrell's restaurant.
The paddock is mostly flat although is slightly terraced, so don't assume one person can push a car around.
The pit lane has good access along the entire length, with the circuit office being at one end.   A seperate building along side is used for race admin, timing and the Clerk of the Course offices.
Beyond that is parc ferme which is also used for scruitineering
There are no 240V power points in the outer paddock areas, but there are taps for water dotted around.
Garages have power points for both 13A and caravan type power sockets.
Loo, shower etc.
There is a shower block in the middle of the paddock and a toilet block.   There are also toilets along the pit lane and more in Tyrrell's restaurant.
Sign on
Usually either in the circuit office at the end of the pit lane, or the building alongside. 
Scrutineering
Scruitineering has a number of bays at the end of parc ferme.   Or the scruitineers will come to you.  Check timetable and final instructions.
Restaurants at the Circuit
Tyrrell's restaurant and bar serves a variety of hot and cold meals throughout the day, and there a bar serving into the evening.
There is usually at least one fast food stall between the assembly area and Murrays Corner (nee Russell's Bend)
Local Facilities
There is a new Service area on the Snetterton junction with an Esso petrol station, Heading north towards Norwich - there is a Shell (Northbound A11) and BP (Southbound) with small M&S attached.   Diner (N) and Starbucks (S).
The town of Attleborough has a number of take-aways, pubs and restaurants, as well as a Sainsburys and Lidl supermarkets.
Nearest hotel is Breckland Lodge in Attleborough, but there plenty of other options depending on budget.
Norwich is about 20 miles north-east on the A11.