Monoposto will be visiting Zandvoort for the first time in 2018 on 6th – 8th July. We will be one of the races involved in the British Race Festival. More information about the festival will soon be available here: britishracefestival.nl/en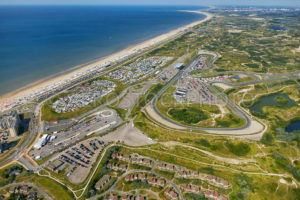 For those who have not visited the circuit before, the circuit is located in the dunes north of Zandvoort, Netherlands, near the North Sea coast line. The circuit is on the beach and walking distance to the local town, so is ideal if you'd like to turn a racing weekend into a holiday!
The entry fee is £500 and the event will consist of 1 qualifying and 3 races, all 20 minute sessions. There will be a practice sessions available to purchase from the organisers on the Friday – €60 for 30 minutes.
Please be aware that you must hold a minimum of a National 'A' or equivalent licence to enter this meeting.
This is a non-championship event and will be run according to the Reprise IT Tiedeman Trophy Regulations. Cars from outside the normal 8 Monoposto classes can apply to enter our invitation class. Please note that for this event, Guest Member entries and Invitation entries will not be considered until after 1st June. Full Competing Members of Monoposto will be accepted on a first-come-first-served basis and are given priority until 1st June. After 1st June, Guest/Invitation entries will be accepted in order of application.
All cars from all 8 of the classes will be on one grid for this event.
The are many different ways to travel to Zandvoort, the route with the least driving is Hull/Harwich to Hook of Holland, this is an overnight ferry and the drive from Hook of Holland to Zandvoort is approximately 1.5 hours. Another option is Dover to Calais/Dunkirk, this route involves approximately 4.5 hours drive from the port to Zandvoort.
If you are sending your car with somebody else and plan to fly over, there are many budget airlines that fly to Amsterdam. The circuit is only 15 miles from Amsterdam Schiphol airport, with good public transport links.
We will be allowed access to the inner paddock to set up on Thursday evening, but teams are allowed to arrive before then and park in the outer paddock (Team AViT will be there from Tuesday morning).
Signing on, scrutineering, drivers briefing, practice and qualifying will all be held on Friday 6th July, races 1 & 2 will be on Saturday 7th and race 3 will be on Sunday 8th July, finishing nice and early to allow competitors to set off for home at a reasonable time.
Please contact rachel@monoposto.co.uk if you have any questions. Please see below details of teams who have space to bring more cars if you want your car taking for you. If you are taking a truck and have extra space, please contact Rachel who will add you to the list below.
EVENT DOCUMENTS AND INFORMATION
Documents will appear here as they are released or updated:
TEAMS WITH TRUCK SPACE
ON BOARD WITH EWEN SERGISON AT THE HISTORIC GRAND PRIX OF ZANDVOORT
https://www.facebook.com/ewen.sergison/videos/vb.528381259/10153699054241260/?type=3