The first trip to Castle Combe for Monoposto since the Tiedeman Trophy in 2015 saw some good racing, hard fought battles and a couple of novice drivers taking class wins. The meeting also had more than its fair share of drama and mishaps over the one day, twin header meeting.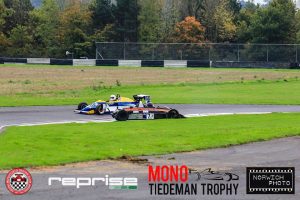 Qualifying started well with at least two corners completed by most before the first yellow flag came out. This was for Jonathan Baggott who had a spin and pulled off the track with his nose cone falling off. He put his nose back on and got back in his car just in time for the first red flag of the session as contact between Terry Trust and Geoff Fern left them stranded in the middle of the track.
Qualifying restarted after a quick clear-up and a few good laps were put in before a spontaneous engine blow saw Martin Wright pull off at Quarry. The marshals ran over to ask him to exit the car as he was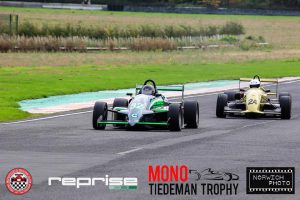 unaware that he was on fire! The marshals were able to put the fire out quickly and the session continued for a few more minutes before Robin Dawe had an issue which unfortunately ended his weekend with a trip into the barrier and saw qualifying red flagged for the second time. Thankfully, although there were a few broken cars in the paddock, all drivers were unharmed from these incidents and in true Monoposto style, three of the five broken cars were repaired in time for the first race and the drivers who were unable to race stayed to support the rest of the grid.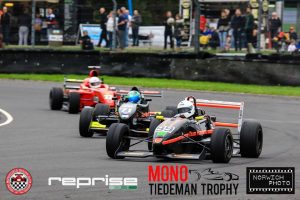 Race one saw Neil Harrison have a great start, catapulting from fourth to first place off the line. It didn't take long for the Timms's to find their way back past him though and do their normal trick of disappearing into the distance to take first and second in the race. Andrew Gordon-Colebrooke had a poor start, resulting in him sitting in sixth place at the end of lap one. He stayed right up with Mat Jordan and Dean Warren in fourth and fifth places and eventually got past them on laps four and five. Unfortunately though whilst chasing Neil Harrison down for third place he lost drive and had to retire from the race, leaving Neil able to comfortably take third place overall and first in his class.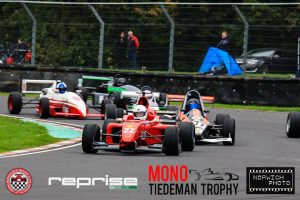 Dean Warren in the Moto 1000 class and Mat Jordan in 2000 had a good battle going between them for most of the race, but an engine blow saw Mat retire. This left Dean free to claim fourth overall and first in class. Terry Clark came in fifth overall and first in the Classic class, having made his way up from twelfth place. Nigel Davers had a great start to the race, climbing from thirteenth to seventh on the first lap but he had to retire on lap two. Before you feel sorry for him, he admitted it was his own fault for not securing his battery terminal.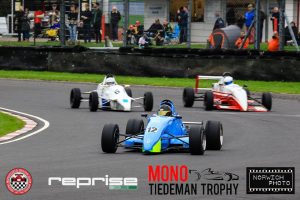 The 1800 class saw a good battle all weekend. Ewen Sergison had qualified on pole in class and eighth overall, with Phil Davis, Matt Walters and Chris Lord covering the next three slots. The start of the first race saw Ewen get boxed in and drop down behind all three of his class rivals, Chris Lord got up from fourth to first in class and Phil Davis and Matt Walters were second and third respectively. At the end of the first lap, Ewen and Matt were lining Phil up for overtaking and the three of them crossed the line side-by-side. The three continued swapping places on the second lap with Matt eventually getting ahead and closing in on Chris Lord. Matt went a bit hot into the chicane on lap three and made contact with the rear of Chris. Luckily, with both cars being quite sturdy, they came out of it ok, but had lost ground to Ewen and Phil who went through to take first and second. The contact left Matt's wing a bit bent and flapping so, although he was still racing well, he was given a black and orange flag and had to retire from the race. The class then settled down for the remainder of the race, with Ewen pulling a gap to Chris Lord who'd taken second from Phil Davis.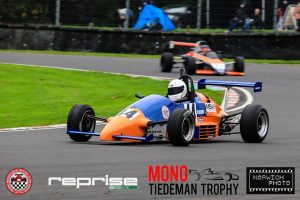 In the 2000 class, James Gordon-Colebrooke had a poor start which dropped him right to the back of the grid. He then gradually made his way back up during the race to take the class win and tenth place overall. Mark Smith had an oil leak in qualifying which had meant that he started at the back of the grid, he ended up fifteenth in the race overall and second in class. Will Cox had a great race at his home circuit, taking the class win and fastest lap in class, finishing twenty eight seconds ahead of Geoff Fern who was second in class. Geoff earned himself the first Driver of the Day award though for getting up to thirteenth in the race after starting twenty second. Terry Trust finished third in class after fixing his damage from qualifying and John Hare finished fourth.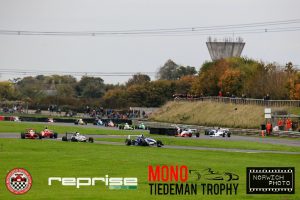 Race two saw the cars line up with a few gaps on track after some of the retirements from the first race were unable to be repaired in time. John Hare started from the pit lane after suffering starter motor issues just before heading out. Jason Timms was on pole for the second race of the day and got away well to hold on to the lead, Neil Harrison had another good start to take second and Jeremy Timms dropped down to third. Jeremy took the lead away from Jason at the end of the first lap on the last corner. Nigel Davers started down in thirteenth place, but made his way up to seventh by the end of the first lap to mix himself up in the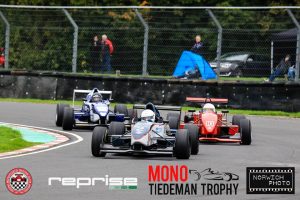 1800 class battle. He got past them and up to fifth by the end of the second lap, with a big gap to make up to Dean Warren who was running first in class and fourth overall. Nigel chased him down for four laps until he was on Dean's tail and the two were battling hard, spending a lot of lap time side-by-side. Unfortunately, with two laps to go, Dean suffered a break down, which left Nigel first in class and fourth overall behind the two Timms's and Neil Harrison. Nigel wasn't able to enjoy this position for long though as he was given a black and orange flag for breaking the noise limit. Jason Timms was also flagged for noise and the two retired from the race on consecutive laps. This left Jeremy Timms to take the win of the race and Neil Harrison came second.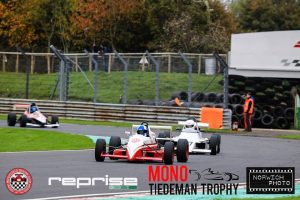 Third place in the race ended up going to Ewen Sergison after he led the 1800 class from start to finish and ended up with a three car buffer to second place man, Matt Walters. However, in the prize giving after race two, Ewen gave his third place trophy to Nigel Davers, who he thought was the rightful winner of the award. Second to fourth places in the 1800 class was hard fought again in this race, with Chris Lord initially ahead of Phil Davis and Matt Walters behind them in fourth. The positions held like this for a few laps before Phil had a spin and ended up losing a few places. Matt then spent the next few laps chasing Chris Lord down, before getting past him on lap six. Chris stuck with him but was unable to get back past and settled for third in class. Dave Wheal inherited the win of the Moto 1000 class after Dean Warren and Nigel Davers retired. He raced well all day at Castle Combe, which was only his second ever race meeting, finishing the day with a first and second in class. Will Cox was another novice driver who performed well at Castle Combe, taking his second consecutive class win and fastest lap in the second race.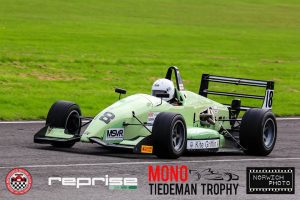 Chris Kite earned the second Driver of the Day accolade after his performance in the second race saw him climb from fourteenth place to take fourth overall. The Champion of Castle Combe award went to Ewen Sergison who took two wins and two fastest laps in the biggest class of the meeting. Second overall for the meeting was tied between Will Cox and Jeremy Timms who had both taken two wins and fastest laps in classes of four people. Jeremy valiantly said that Will could take second though and he would settle for third place due to Will putting in such a good performance as a novice driver. The points haul from this meeting has put Neil Harrison up in the lead of the championship, with James Gordon-Colebrooke in second place and Terry Clark third.