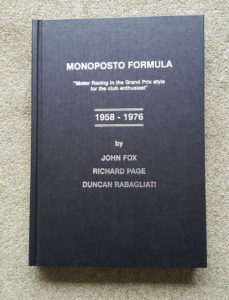 MONOPOSTO FORMULA
"Motor Racing in the Grand Prix style for the club enthusiast"
1958 – 1976
by John Fox, Richard Page & Duncan Rabagliati
The Formula One Register has documented the history of the British Monoposto formula from 1958 to 1976.
Originally conceived to encourage the construction, by enthusiasts of limited means, of single-seater racing cars, it struggled to establish a place against competition from Formula Junior until, in the mid-60s it adapted to include a mix of "home-built" and older production chassis. Of course, as the years progressed Formula Junior chassis became eligible, and later still Formula 3 cars. On the engine front, for many years there were two classes – 1000cc and 1500cc until the former was scrapped for 1974. The ready availability of cheap cars and cost control of engines saw the formula blossom from the mid-60s onwards, with large grids and good racing, with many successful "one-offs" such as Jim Yardley's Beagle, Alan Baillie's Viking and the Anco of Brian Toft.
The format of this book is the same as previous Formula One Register publications. Each race covered has an entry list, chassis numbers, grid positions, full results with race times and competitors' fastest laps and a race report. However, in a departure from our normal style, a section has been added to describe – and illustrate with photographs – over 50 of the most important or interesting one-off cars, many of which were more than capable of giving the professionally produced marques a good run for their money.
Published as a Limited Edition of 60 copies, the book runs to over 400 pages, hard bound, numbered and signed. It retails at £70 + £4.50 post & packing in the UK. Rest of Europe £16.60. Delivery at certain race meetings may be possible.
The book can be ordered through the Formula One Register web site
www.formulaoneregister.com but if you want a particular numbered copy you MUST ALSO EMAIL formulaoneregister@gmail.com with your request.
Please use the website or e-mail, fax or post your order to;
Formula One Register, 4 Hadlow Way, Lancing, West Sussex, BN15 9DE, UK
Fax/Tel: +44 (0) 1903 751429
Email: formulaoneregister@gmail.com