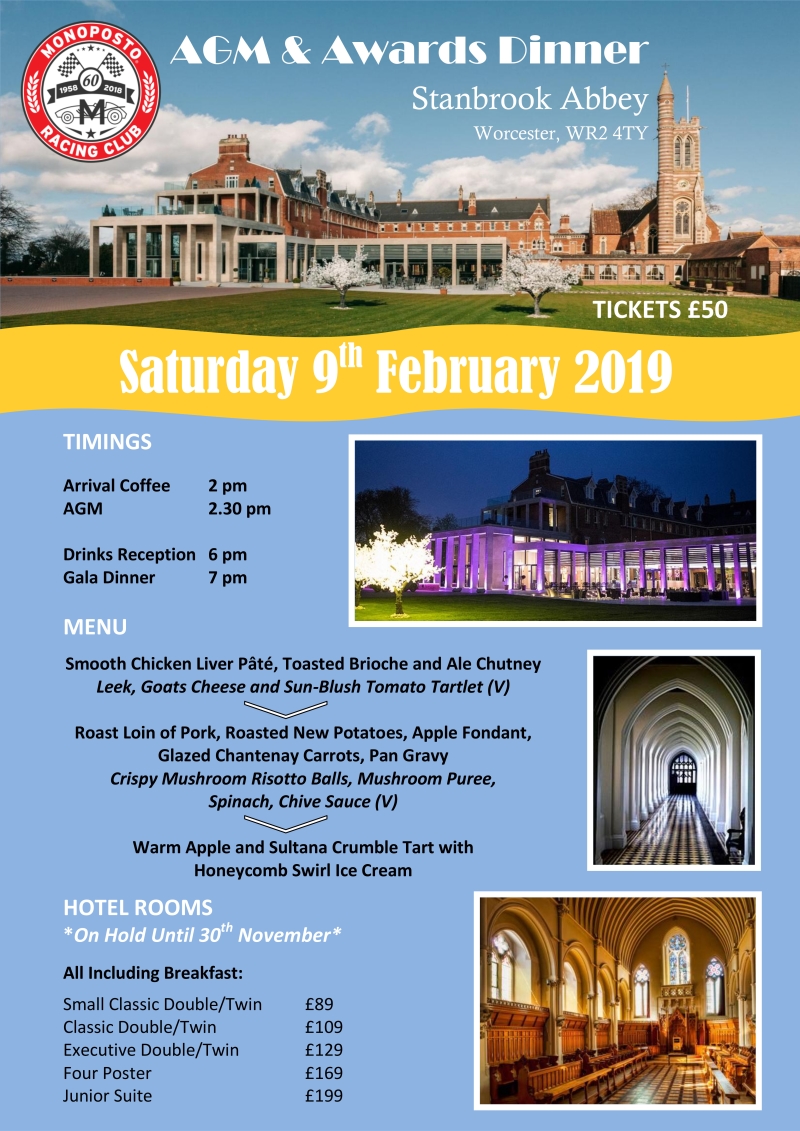 The 2018 season Annual Awards Dinner will be held on Saturday 9th February and we will be visiting a new venue this year – Stanbrook Abbey which is near Worcester.
Come and join us for what will be a fantastic evening of food, drinks and trophies!
The AGM will be held at 2.30pm, but please join us at 2pm for tea and coffee.
An informal discussion will follow the AGM.
Drinks will be from 6pm in the Great Hall and you will be called through to dinner in the Thompson Room at 7pm.
The Awards Presentation will take place between courses and conclude after the dinner.
For those who still want more after the dinner has finished, the bar will remain open until 'last man (or woman) standing'
Stanbrook Abbey are offering discounts on their room prices and holding rooms for us until 30th November. Please call them on 01905 832940 to book your room
and quote Monoposto to make sure you receive the discounted rate.
Click Here to Fill in an Online Booking Form for Tickets

ANNUAL AWARDS
The main championship awards have already been settled (except for the Reprise IT Tiedeman Trophy Champion which will be decided at Anglesey on 18th November), BUT there are also a number of subjective awards that we give out each year.
As per last year, we thought we would throw it over to you, the members, to nominate people who you think deserve the awards.
The awards and their criteria can be found below, along with a nomination form.
You can make as many nominations as you like.
Please send all your nominations to Rachel by 7th November.
(rachel@monoposto.co.uk or RJ Events, Nelson Street, Doncaster, DN4 5AB)
Click Here for Awards and Criteria
Click Here for Nomination Form