Track Information
CIRCUIT LENGTH:
1.208 miles
LAP RECORDS:
F3: 00:44.607 - Tony Bishop / Dallara F302 - 2016
2000: 00:48.085 - Kevin Otway / Van Diemen F4 - 2016
Classic: 00:48.957 - Chris Anstruther / Bowman BC3 - 2012
1800: 00:48.902 - Ewen Sergison / Swift SC99Z - 2012
1600: 00:50.944 - Jeremy Timms / Van Diemen RF88 - 2003
1400: 00:45.097 - Jeremy Timms / Dallara 399-Suzuki - 2015
1000: 00:45.856 - Adrian Wright / GEM AW3 - 2013
Outright: 38.032 - Scott Mansell - Benetton B197 - 2004
STARTERS:
30 per grid
PRE-EVENT TESTING:
Friday preceding race: TESTING LINK
FIRST MONO VISIT (ALSO FIRST MONO RACE!)
28.06.1959, 750MC/250MC Club Lotus (1.240 miles)
Winner: Cyril Scott-MacArthur, Saxon-BMC
FL: Scott-MacArthur, 01:06.6s 67.03mph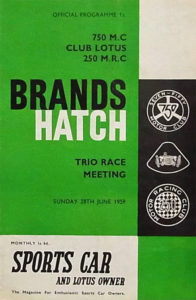 This single day race meeting will be the mid point of the revised 2020 championship.

The race format will be 1 qualifying session and 2 races, each scheduled to be 15 minutes in length.   Qualifying will set grid for race 1, fastest lap of race 1 will set grid for race 2.
COVID-19 (ALSO SEE COVID-19 page)
NEW GUIDELINES FROM 14th September:


There is now the requirement for all

participants

(and we assume helpers within paddock/pitlane are included in this) to wear a face

mask

in 

all areas

 of the venue at 

almost all

 times with 

few

 exceptions, and CoC's and

Covid-19

officers have enhanced powers to

intervene

and penalise.

Motorsport UK have issued revised guidelines HERE
CLUB HUB TEA URN
Emma will be running the Covid-19 secure tea urn as she did at Silverstone.
CIRCUIT DETAILS
Brands Hatch Circuit
Fawkham
Longfield
Kent
DA3 8NG
Tel: 01474 872331
Fax: 01474 874766
Email: brandshatch@msv.com
Web: www.brandshatch.co.uk
Event Information
Organising Club: MSVR
EVENT ENTRY
EVENT DOCUMENTS
Documents will appear here as they are released or updated:
RESULTS
LIVE TIMING
NEXT EVENT