Track Information
CIRCUIT LENGTH:
2.969 miles 
LAP RECORDS:
F3: 01:48.480 - Robbie Watts / Dallara F302 - 2015
2000: 01:55.677 - Bryn Tootell / Van Diemen RF01 / 2017 
Classic: 01:54.313 - Jim Blockley / Ralt RT3 - 2012
1800: 01:59.896 - Ewen Sergison / Swift SC99Z - 2011
1600: 02:05.271 - Geoff Fern / Van Diemen RF89 - 2016
1400: 01:50.007 - Jason Timms / Dallara F301- 2016
1000: 01:51.199 -Richard Gittings / Jedi Mk 6 -2016
Outright: 01:39.9.33 - Felipe Nasr / Dallara F308
STARTERS:
38 per grid
PRE-EVENT TESTING:
Friday 7th October
FIRST MONO VISIT:
02.08.1959 - 750MC
Race cancelled due to insufficent runners after too many cars failed during qualifying.
31.07.1960 - 750MC - results not known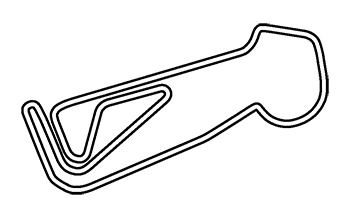 EVENT FORMAT
The race format will be 1 qualifying session and 2 races, each scheduled to be 15 minutes in length.   Qualifying will set the grid for race 1, and drivers fastest laps from race 1 will determine the grid for race 2, quickest taking pole position.  
CIRCUIT DETAILS
Snetterton Circuit,
Norwich
NR16 2JU
Tel: 01953 887303
Fax: 01953 888220
Email: snetterton@msv.com
Web: www.snetterton.co.uk
Event Information
Organising Club: MSVR
EVENT ENTRY
EVENT DOCUMENTS
Documents will appear here as they are released or updated:
RESULTS
LIVE TIMING
NEXT EVENT