This event takes place on the Fosters circuit on Monday 28th as part of the Easter FunDay
Two free adult tickets to give away… see our facebook page FINISHED
NOTES REGARDING PADDOCK POWER SUPPLY.
No testing is available at the circuit in the run up to the meeting so we have negotiated a 'FREE' practice for each grid – at NO EXTRA charge to our competitors (your club is absorbing the cost into the meeting finances). By entering the meeting you are automatically entered for the 15 min practice session, although you can sit this out if you prefer to go straight to the qualifying. The rest of the day runs as normal, with a single qualifying using the 1st and 2nd fastest lap rules to set the grids for the 1st and 2nd races….
Details of the m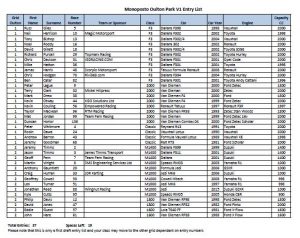 eeting will appear here as they become available. The official, up-to-date information can be found on the MSVR website
REVISED Latest entries list as at 24th March
Don't get caught out with regulation changes… try our helpful guide to some of those 2016 preparations.
Paddock plan
attached. MSVR confirm Access to the paddock should be from midday on Sunday 27th….. the Mono team aiming to be there around 1.00pm.
N.B. Arrangements made for JMT to be allowed in before midday to set up our 240v generator facilities… don't 'fume' at the gate if you arrive early and they won't let you in!
We have a large block because JMT are providing the 240v power from their unit in the centre and they will NOT permit cables across roadways. We will have roadways around our block so please position yourselves accordingly – setting up in long ways rather than width ways should help utilise the space. Anyone who doesn't require power can of course have more flexibility. Some good paddock power 'etiquette' notes to follow for the benefit of all. NB. JMT assure me theirs is one of the quietest generator sets around but for the benefit of paddock campers, we will turn off at 11.00pm (as the Mini's did at Donington) on Sunday 27th.. which will be the revised 11.00pm because.. Clocks go forward.. On the Morning of Sunday 27th… so doesn't directly effect us unless you still haven't reset yours on the morning of the 28th!! reminder here
All competitors are invited to sign on at Race Administration between 16:00 & 18:00 on Sunday 27th March.. make sure your clocks are set right!
Scrutineering Sunday 27th 2.00pm – 5.00pm. We have arranged for the help of a scrutineer (remember to thank him for giving up his Sunday afternoon!) to open the bay between 2 and 5pm to work through the Mono earlier birds. Expect to be given your actual scrutineering tickets on Monday after the full meeting is underway.
Tyre Fitters
MSVR do not believe any tyre supply companies are due to be present at this meeting.
Trophy Presentations
Bank Holiday Monday… Mmm… in respect of the need for people to get away after this very busy day, all class trophies will be presented on the podium as soon as possible after each of the 4 races.
Timetable attached, please note:
Due to concerns over the amount of scrutineering time for the whole meeting in view of this being the first one under the 100% FHR (HANS) rules (and rain lights with Monoposto) our Chief Scrutineer is unable to spare the
scrutineers to do scrutineering in situ this time… be nice for him this time and we should be able to ask for this at future events!
With each grid going out 4 times in the day the timetable is busy with the need for scrutineering, getting out for 'Free' practice, drivers briefing and then qualifying… plus a cheeky desire for a season opening photo shoot. We have an interesting compromise!
All cars to go through scrutineering and then straight into the parc ferme area
'Suited and booted'
Spotted a little 'wrinkle' that might help on Monday morning.. Exact details yet to be finalised but the Chief Scrutineer has agreed with ..
We are going to have about 48 mono drivers who all need to scrutineer their cars from 8.00am (I am sure they will be able to start earlier ..VAG ARE BEING 'DONE' IN THEIR GARAGES SO WE CAN LINE UP EARLIER IN THE BAY AND SUBJECT TO SCRUTINEER AVAILABLITY, GET STARTED EARLIER) and attend a drivers briefing at 8.15am (which will be in the JMT awning if the weather is inclement) to then return to their cars for a photo shoot in parc ferme and then straight out for free practice (2 sessions). Photo shoot is optional, going out in the free practice is optional, only scrutineering and drivers briefing are compulsory… you can skip the photo shoot in parce ferme and/or free practice and go straight into qualifying – starting from the assembly area NOT parc ferme
While a lot of the mono cars can be scrutineered with team members (and various mono team guys will help anyone on his own), the difficulty is that the drivers will really need to be 'suited and booted' in their official wear before they go to the drivers briefing as there won't be time for them to change afterwards. This means checking their race suit and boots with their car becomes impractical.
If our drivers present themselves 'suited and booted' to the scrutineering office, a scrutineer can do the suit and boot check and note that down – maybe initials on the sign on ticket?. Then the rest of the gear can be with the car and the scrutineer who does the actual car knows the suit and boots have been checked.
Photo Shoot and Free practice
BOTH grids to form up in parc ferme and a combined 2 grid (all monoposties) drivers briefing will take place either in the open in parc ferme (weather permitting) or the JMT awning at 8.15am. While the briefing is going on the cars will be used for the photo opportunity and the drivers can head straight back from the briefing for more pictures. Grid 1 will then leave the parc ferme and go down the pitlane to exit onto the circuit from there. Grid 2 can form up ready to do the same. For all of the 3 other sessions for each grid during the day the normal assembly area will be used NOT parc ferme.
2016 Spotter Pictures
Time to think about spotter pictures for the race day programmes in 2016. Deadline 14th March.
Our current stock is of course cars as they looked in 2015 Any special stories for the programme, well let me know!
If people have piccies of their new 2016 cars/look then please send in and the Oulton programme can use those. Ideally on track shots but even ones taken on your drive or in your workshop help identify the cars.
Thank you and welcome to new member Taylor Macvean for his spotter picture of his RF93 resplendent in Mono number, class dot, JMT stickers and MSVR stickers.. First one to go in my new spotter file. … and just to remind everyone, he has the nice new FIA spec flashing rain light required by our 2016 regs.. don't forget now!
Those people racing at Snetterton on the 19th get a chance to show off their new look in front of Andrews camera lens!
Ticket offer from MSVR
We have a discount code for competitors who want to buy tickets for Oulton Park 28th March.
Standard online advance price is £15, and the discounted price will be £12. Only available in advance and online.
The code is MONO
Oulton Park venue info Oulton Park Weather
Pictures of this meeting will be posted on
For on track photography see
MORE NEWS….. MORE NEWS….. MORE NEWS….. MORE NEWS…. HERE
Full 2016 Monoposto Calendar